Accessories
Great products start at the source. Our water treatment accessories come at a competitive price point, but with a flexible modular design, durability, and full-cycle support. Pure water makes better products.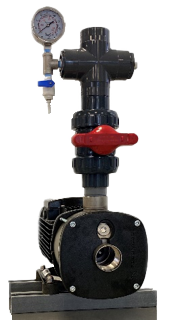 UV
Leading development of water treatment solutions for point-of-use treatment using environmentally-friendly UV light.
Learn More

High Purity Distribution Pumps
Professional grade pumps include everything from dry-running protection to dual-check valves and dual-pressure transducers.
Learn More

Cartridge Filters and Housings
Thermally-bonded pre-filtration designed for high flow & long service life; post-filtration removes 99% of bacteria and endotoxin and protects equipment from resin breakthrough.
Download PDF

Membrane Cleaner
RO Clean A/B Membrane Cleaner for Reverse Osmosis. Compatible with Thin Film Composite Membranes.
Learn More

Pure Water Storage
Cone bottom design for complete drainage
Continuous internal spray-down eliminates build up of residual on tank walls
High/ Low / Full tank shut off
Plug and play interconnectivity to RO system makes installation a breeze
Learn More
Ready to hit the go button?
Reduce your operating costs and strengthen your organization's sustainability.
Latest News
Keep up with NuStreams latest products and important updates.
Backed by years of knowledge and experience, NuStream is here to help provide the most up to date information available about our products, services, and industry trends.